Drink From the Deep » Priorities, Relationship, Religion, Tough Times » Review & Giveaway: Deny Yourself by Lisa Chan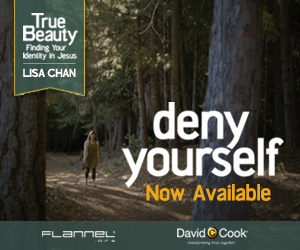 True Beauty: Deny Yourself
Once again, I was blessed to be able to work with David C. Cook to review Lisa Chan's (wife of best-selling author and pastor Francis Chan) 2nd installment of her 3-part True Beauty Series. Last fall I reviewed the first in the series called Be Still and was able to bless one of my readers with a copy. As with last time, I will also be giving away a copy of this new DVD to one lucky reader!  This post was originally shared on my other blog – Mothering Matters, but wanted to share it with you here as well!
We live in a very self-centered, self-satisfaction and gratifying society, and the message that Lisa brings in this new DVD may challenge many people . . . and it should! However, there is a blessing in the challenge (and obedience)!
In the second film of her new series, True Beauty: Finding Your Identity in Jesus (David C Cook/Flannel, March 2013), Lisa Chan–co-founder of the mega-church Cornerstone Community Church in Simi Valley—presents another option for women: Deny Yourself. In this impactful teaching, she demonstrates a way of life that is full of contentedness and joy.
True Beauty Deny Yourself TRAILER from Flannel Staff on Vimeo.
Luke 14:27 – And whoever does not carry their cross and follow me cannot be my disciple.
Lisa was struck by this verse and command from Jesus, and it really challenged her. What does it mean to "carry their cross and follow" Christ? What is it that Christ is asking us to do in our life? How will it affect our lives?
It's a message that many Christians don't think about, want to truly think about, or feel that it would even be productive in their life. It's not the "norm" for how people live in the world today.
However, Lisa (mother of 5) and her husband Francis have definitely taken this command seriously. In 2010 they left their comfortable and familiar surroundings to go on a journey that only God could design! They traveled through Asia, worked with the poor, and landed in San Francisco where they now reside. This would not have happened if they had not followed God's leading in their lives.
Deny Yourself weaves Lisa's teaching with the story of Irene, a wife and mother, who, several years ago, was at her wit's end in her marriage. Ready to divorce her alcoholic husband, God moved mightily in his heart and she was called to forgive him when he come to her with a repentant spirit. In a marriage that's now thriving, Irene and her husband have been challenged by the biblical command to deny themselves by living out God's instruction to "care for the orphans." Together, they have adopted several children into their family.
As in the last DVD, I enjoyed listening to Lisa and her easy-to-approach way she talks with her listeners. Her heart for women to experience a real and ever-deepening relationship with God, compels her to brave even challenging and tough-love type topics. But she does it in a way that you can swallow and are actually drawn in to hear more.
I had to grab my tissues in hearing Irene's amazing story (and hearing her husband Domingo's story in the extra snippets on the DVD). It made me want to build a bigger house and adopt more kids (well . . . I already wanted to do that . . . but we've maxed out this house with 5 . . . 4 biological and 1 adopted)!
"When I have laid down my life, God fills me up…who cares if we've given up some comfort, some possessions and stuff?" Chan asks, with a peaceful steadiness to her voice. "He fills your heart with joy as nothing else can."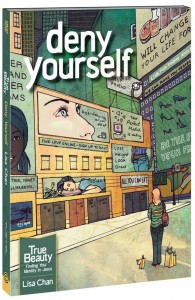 Lisa Chan is a mother of five and co-founder (with her husband, Francis) of Cornerstone Community Church in Simi Valley, California. An accomplished singer, Lisa has recorded three albums, including Endless Beauty. Lisa lives with her family in San Francisco where they are doing inner-city ministry as a family.
Founded in 1875, David C Cook is a leading nonprofit discipleship resource provider based in Colorado Springs, Colorado. For more than 130 years, David C Cook has served the Global Church with life transforming materials from best-selling books and curriculum, to toys and games and small group resources. With additional offices in Elgin, Illinois, as well as Paris, Ontario, Canada and Eastbourne, UK, David C Cook is a global organization whose resources are published in more than 150 languages, distributed in more than 80 countries, and sold worldwide through retail stores, catalogs, and online. Through David C Cook's music division, Kingsway, over 30% of the top 500 praise and worship songs written by Kingsway artists are sung in churches around the world. For more information visit David C Cook on the Internet at www.davidccook.com.
Flannel is a non-profit ministry that serves as a catalyst for highly creative people to communicate the way of Jesus to the world. Flannel's primary products are short, creative films designed to start discussions on relevant issues and to deeply resonate on what matters most today. Headquartered in Western Michigan, Flannel's films have been seen around the world. www.flannel.org.
Giveaway!
How can you get your own copy? Well, I will be giving away a copy to one of my fantastic readers!
If you don't win – you do have the option of being able to order it HERE. You can order the DVD (to show to your women's group or with a friend over coffee), download the video or watch it online.
To try and win a copy – please enter through the Rafflecopter below!
Contest open to US residents only.
Giveaway ends at 12:00am on Friday, April 26, 2013
Filed under: Priorities, Relationship, Religion, Tough Times · Tags: abundant life, Priorities, relationship, Trials