Drink From the Deep » Priorities, Relationship, Resources, Tough Times » Review & GIVEAWAY: Be Still – by Lisa Chan
True Beauty: Be Still
New film helps women who are caught up in the busyness of life.
Press Release, 6/25/2012: Every woman knows the feeling. Regardless of her age, her income, or her family situation, women today are facing the challenges of a busy life and the stress that comes with it. Obligations to children, husband, job, church, friends, committees, and the pressures of everyday life have created a spiritual crisis for women. Because in their efforts to be everything to everyone, women have forgotten the ONE who really should be their everything.
I was blessed to be given the opportunity to view the first film in Lisa Chan's new series True Beauty: Finding your Identity in Jesus (David C Cook/Flannel, September 2012). The first film is called Be Still and can I say . . . it is a needed word for most (if not all) moms  out there (and anyone really)!
Since God called me to become a SAHM and leave my nursing job, He has been slowly stripping things away and teaching me truly how to "BE" instead of always "DO", He has been taking the "Martha" out of me and teaching and encouraging me to be a "Mary" – to sit and enjoy being in His presence (without doing things or telling him my wish list of prayer requests)! He has taught me who I am as daughter of the King, that I am beloved and cherished and passionately pursued because of who and whose I am – His daughter, and not because of what I do, how many prayer meetings or Bible studies I attend, how clean my house is, or how well behaved my kids are. He loves me for ME! 🙂 It has drastically and forever changed my life!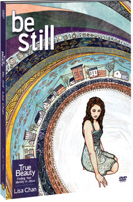 Lisa Chan (wife of best-selling author and pastor Francis Chan) knows all too well the busyness that comes with being a mom and wife. As a mother of 5 kids and co-founder of Cornerstone Community Church in Simi Valley, CA with her husband – you can imagine that she has experienced what it is like to be overcommitted, out of time and overwhelmed. I know I have – and I don't even have a church to help run!
Be Still is a refreshing cool drink on a hot day, or a warm cup of cocoa on a cold day. It soothes and calms the soul – from the cinematography and the soothing music to the way Lisa talks to you – like a good friend sitting down with her at her kitchen table when you've been having a rough day.
This video isn't too long or too short. It's just the right length for a mom to pop in her DVD player, download onto her computer or watch it online (over and over again!) – and feel refreshed, encouraged and inspired – to slow down, to get away, to intentionally make time to reconnect, renew, rejuvenate and restore her relationship with God – to go deeper and become more intimate with your heavenly Father, your Creator, your Savior, the one who loves you no matter what!
It was an unplanned, extended time alone with God that fueled Lisa Chan's desire to encourage every woman to see the beauty of coming before the Lord in stillness. She has seen firsthand that women in the church are suffering from depression, anxiety, and stress at alarming rates—and recognizes that women need to make the choice to find hope and healing and truth from God's presence and through His Word.

Be Still, which weaves Lisa's teaching with the story of Susan, an amazing woman who found that being still with God was what she needed in order to overcome her struggle with a broken marriage, is intended to challenge women who are struggling and help them to find power and strength in just being quiet and listening. With this film, Chan comes alongside women in their walk with the Lord to give them the tools they need to be the person God intends them to be. True Beauty: Be Still is foundational and can be life-changing as women are convicted to take stock of their own reasons for not spending time with Jesus.
More films to come!
Be Still is just the first in Lisa Chan's True Beauty series, and I am looking forward to watching the others. Each of them invite you into a very real conversation with Lisa about the Word of God, spiritual practices and truths of living life in Christ. You will find, in each film, a story of a real woman and what she discovered interlaced with Lisa's teaching that "true beauty lies in the heart"!
Here are a couple previews for you to enjoy!
Giveaway!
How can you get your own copy? Well, I will be giving away a copy to one of my fantastic readers!
If you don't win – you do have the option of being able to order it HERE. You can order the DVD (to show to your women's group or with a friend over coffee), download the video or watch it online.
To try and win a copy – please enter through the Rafflecopter hosted on my other blog – Mothering Matters!  (Hope you win!)
Are you ready to Be Still today?
Do/have you struggled with being still with God? What is your greatest hindrance/challenge in doing this?
Share with me below!
Filed under: Priorities, Relationship, Resources, Tough Times · Tags: Be Still, encouragement, Freedom, Lisa Chan, Priorities, relationship, resources, Trials, True Beauty