Drink From the Deep » Abundant Life, God's heart, Love, Relationship » Happy Good Friday!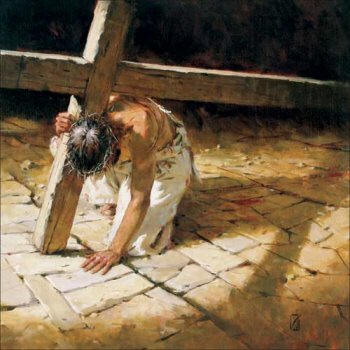 I have this picture on my dining room wall. Several years ago, my husband and I went out for coffee at a Christian coffee shop, and this picture was hanging in their little gift shop. I could not take my eyes off it all night! I mentioned it to my husband, and he surprised me at Christmas with it a few months later.
Why couldn't I keep my eyes off it?
I grew up in church (Yes – I'm a PK – Pastor's Kid), and I've seen countless pictures depicting Jesus carrying his cross, on the cross and more. But none of them moved me the way this picture did.
I think part of it was the realism – his body and hands, the blood on the pavement and the roughly hewn wooden cross. But more so, it was his stance . . . one knee and one hand on the ground, and the blood behind him showing that he'd been dragging this cross like that for awhile . . . not giving up.
The pain.
The agony.
The determination.
The exhaustion.
All for me.
All for you.
All for everyone who ever lived and will live.
I don't know if I could have tolerated it. I don't know if I could have done it. I don't know if I could have gone through with such a plan – for people that didn't just disagree with me – but actually despised me!
For my family and friends? Yes. I would have done it!
For my enemies? . . . Hmmm . . .
Today is a Happy and Good Friday!
As sad as it is to think about the horrific death Jesus endured – there is a joy in it as well.
This is LOVE!
This is why I am alive today.
This is why I am who I am today.
This is why my kids are even here today.
This is why I am free from guilt, shame, condemnation, sin, self-hatred, low self-esteem, low self-worth, fear, anxiety, worry, depression and more.
"This is how we know what love is: Jesus Christ laid down his life for us. And we ought to lay down our lives for our brothers and sisters." 1 John 3:16 NIV
This is LOVE . . . True LOVE . . . Pure LOVE . . . Unconditional LOVE.
He didn't die for just the good, or because we deserved it. He died for those who didn't deserve it (basically – all of us!). He died this traumatic and terrible death because of LOVE . . . and it boiled down to a decision (not a feeling). He chose to die for us . . . because He loved His Father, and because He loved us.
THAT is LOVE.
I want to be more like that.
I'm trying.
But today – I'm so thankful for Jesus and all He did for me! I literally would be dead today (from self-destruction) if it were not for Him!
Do you know how much you are loved today?! 🙂
Filed under: Abundant Life, God's heart, Love, Relationship · Tags: abundant life, Easter, Freedom, Love, Salvation