Drink From the Deep » Resources » The Action Bible: Review and Giveaway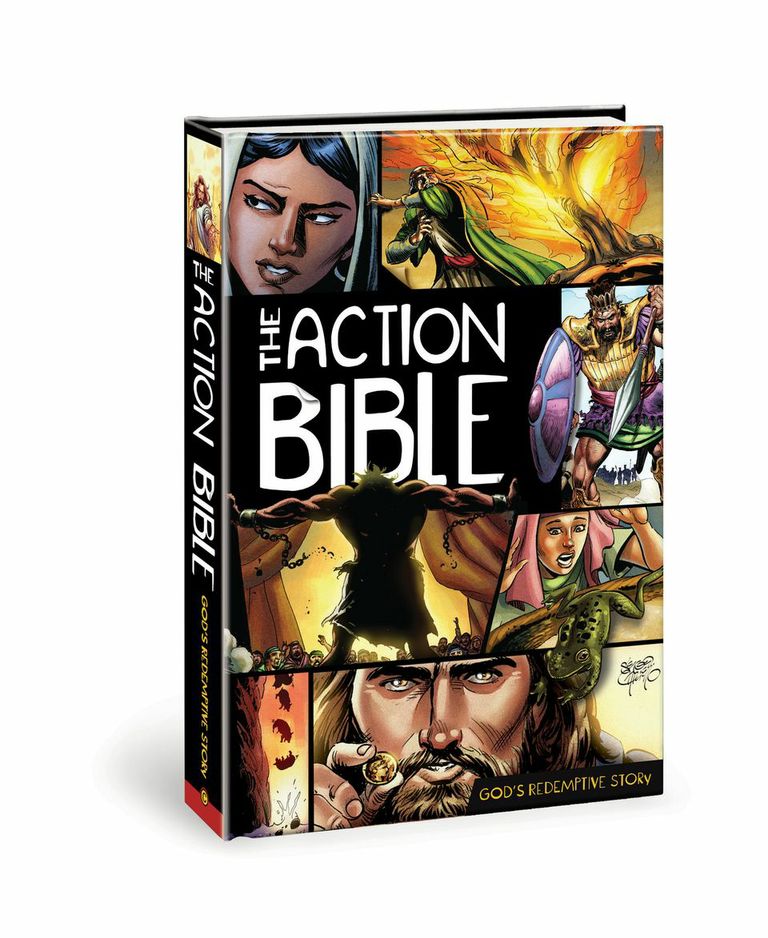 The Action Bible
With 5 kids, we've tried out our fair share of Bibles, Devotionals and other Bible-related materials. I am a firm believer in making sure the Bible is understandable and enjoyable, and am not opposed to using Bible "story" books to help make the Bible come alive to my kids at the various ages throughout the years.
I was thrilled when asked to review The Action Bible, as well as the New Testament version, the Devotional book and the Handbook. What I didn't realize is how hard it would be for me to actually get and keep my hands on these things in our house! 🙂 My kids (ages 8 – 17) have been devouring this book! I knew my kids liked the Manga Bible we were given years ago, and I knew they loved reading certain graphic novels – but wasn't sure if they were into DC or Marvel comic-type books.
Well . . . . they LOVED this book!
The Action Bible has over 700 pages of amazing illustrations created by Sergio Cariello (who previously worked for Marvel and DC Comics) that depict 215 stories, put together in chronological order (with references to where they are found in scripture) spanning Genesis to Revelation.
When I asked my kids what they thought of The Action Bible, here is what some of them said:
It's AWESOME . . . no . . . it's AMAZING! You know how when you read the Bible it can be kind of boring.  Well. . . I was just reading the Action Bible – and there was part of me that thought 'I already know these stories, so maybe I'll stop reading them', but then part of me that said 'no way!  I just HAVE to keep reading them because it's so good!'  🙂 – 17 y.o. son

Cool! It's like the Bible – but more comic-y . . . and with less words! – 10 y.o. son

It really brought the Bible to life and made it easier to visualize and understand. I LOVE comics and I LOVE this book! – 12 y.o. daughter
In the beginning of the Devotional book – it says the same thing . . .
The Bible can be intimidating. It's okay; you can admit it. I mean, it's got all those words in tiny print packed across the pages. It's a good thing the Action Bible came along!

The Action Bible is all about the pictures – cool pictures, comic pictures. And those pictures bring the stories of the Bible to life in whole new colorful ways, without having to use so many words. You can see the action jump off the page. You can understand the stories much more easily. And all that helps you bring the power of the Bible to life in your everyday world.
I think the creators of these books did it right . . . and got their point across . . . because my kids got it!
What did I think?
I have never been a graphic novel kind of person. I can easily get frustrated with the over-stimulation on my eyes in trying to read them – with all the graphics, the unsymmetrical layouts, not knowing which sentence to read next, etc. So – I was leery that I would enjoy this book like my kids would.
However . . . I have to say . . . I got hooked! 🙂
It was easy to read and understand, and it truly did make the Bible come alive in a new way. I am very visual – so it's nice to be able to see the stories instead of just read them.
BUT – what I truly liked about this Bible "story" book . . . is that it doesn't just cover the common and most well-known stories (Noah, David and Goliath, etc). It has stories based on Job, Isaiah, Acts, Corinthians, Thessalonians . . . even ends in the book of Revelation.
The titles of the stories were cracking me up as well! There were many "punny" titles and several that were the names of TV shows, sayings, books and more. For example – Wife Swap, Touched by an Angel, Spy v. Spy, The Wonderful Win against Og (say it fast . . . sounds like "The Wonderful Wizard of Oz"), Eat your Vegetables (Daniel), When in Rome . . . , Why do Bad things happen to good people?, etc.
Again – just another way it appeals to kids and adults alike.
Other Materials
In addition to The Action Bible which covers the Old and New Testament, there is a New Testament only version, a 52 week Devotional, and a Handbook (a dictionary of people, places, things, and descriptions of the books of the Bible). All of them my kids and I have enjoyed.
What is the most exciting superhero comic?
Giveaway!!
Yes – one lucky winner will receive a copy of The Action Bible (retails for $26.99)! Will it be you?! 🙂
Beginning today (March 25th, 2013) – Enter below using the Rafflecopter. Come back and enter again each day.
Contest ends at 12AM on April 7th, 2013. Winner will be notified within 48 hours.
In order to receive credit for the optional entries (FB, Twitter), you must leave a comment below in the comments section.(answer the question that is listed in the Rafflecopter box). So – don't forget! 🙂
Giveaway is open to US residents only at this time. Thanks.
Good Luck!
Filed under: Resources · Tags: Bible reading, resources